Brands can maximize the impact of their sustainability efforts by approaching carbon label strategies through the lens of consumer perceptions.
Brands who create a deeper connection with their customers have the ability to improve their brand influence by leveraging specific knowledge of consumer intentions towards sustainable lifestyles. Unlocking how sustainable offerings provide practical and emotional value to consumers, alongside areas they would like to see companies take action, will allow brands to deliver more relevant initiatives that meet and grow the consumer demand for sustainable innovation.
The SB Socio-Cultural Trends ResearchTM, conducted in partnership with Ipsos, tracks the changing drivers and behaviors of consumers around the intersection of brands and sustainable living. This ongoing research consistently reveals that 96% of US consumers say they try to behave in ways that protect the planet, its people, and its resources. However, their intentions remain stronger than their actions, resulting in an ongoing sustainability intention-action gap. When asked about the most common barriers to making more sustainable choices, the second-highest answer was simply not knowing where to start, after price. These top two barriers have remained consistent since the start of this research tracker, three years ago.
In the pulse study from December 2022, SB surveyed US citizens on the most pressing issues the country needs to solve, awareness of their own carbon footprint, that of the products and brands they choose to buy, and their motivations and barriers to reduce those. The research explores resonance of brand action and willingness amongst consumers to switch to more sustainable product options, as well as their attitude towards, and awareness of, carbon labeling. Among other insights, the report reveals three key findings for brands to consider when thinking about adding carbon labeling to their sustainability strategy.

The marketplace is ready for carbon labeling, but there is more work to be done.
With respondents ranking climate change as the #2 most pressing issue, eight-in-ten people say they want to take action to reduce their personal carbon footprint, while 78% say it's important to them that products are produced in footprint-limiting ways. Overall, US consumers are strongly in favor of carbon labeling, where two-thirds think it should be mandatory. While three-quarters of people agree that carbon footprint information should be prominent on a product's label, there are only 24% of people who are actually checking product labels for this information. Brands working on a carbon label strategy must consider their customer's strong desire for solutions but minimal follow-through on engagement. An integrated campaign designed to drive consumer action and awareness is necessary for ultimate success.
Mainstream education is essential on the meaning of 'carbon footprint'.
Awareness and understanding around a 'carbon footprint' is low and there has been little change in the understanding of the term over the past year. With only about half of US citizens claiming familiarity with the term, there are 41% of people who say that they've heard of this but aren't really sure what it means, and 8% who reported never hearing of this term prior to seeing it during this study. After providing a definition of what carbon footprint means, half of the respondents say they are conscious of the carbon footprints of the products they buy, with Millennials leading the way at 65%. Once the message behind the label is clear, three-in-four agree that seeing carbon footprint labeling gives them confidence in the brand's wider actions around sustainability and thereby gives a halo effect over the entire brand positioning.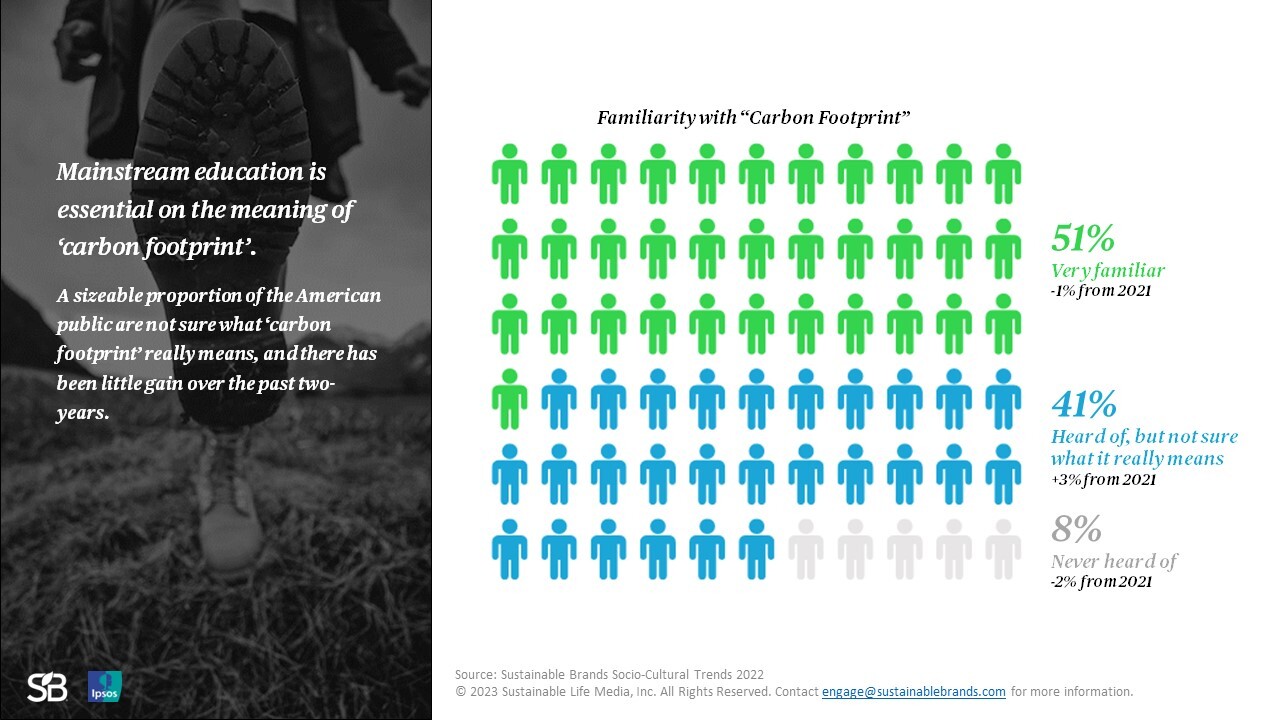 Carbon labels have the potential to drive purchasing decisions.
All else being equal, the number of people who would switch to a more sustainable product is 73% which includes eight-in-ten Millennials. This specific demographic is more likely to take notice of the carbon footprint of their purchases, and intentionally buy products with carbon labeling. However, the language used to describe the term matters. Out of the selection of carbon-related terms presented, one-third of the respondents were most familiar with the term 'carbon neutral', and half claimed that seeing this term on packaging would encourage their purchasing decision. With awareness being low on the current carbon logos on the market,
respondents say they are looking for a widely recognizable and simple certification logo to help them make sustainable choices.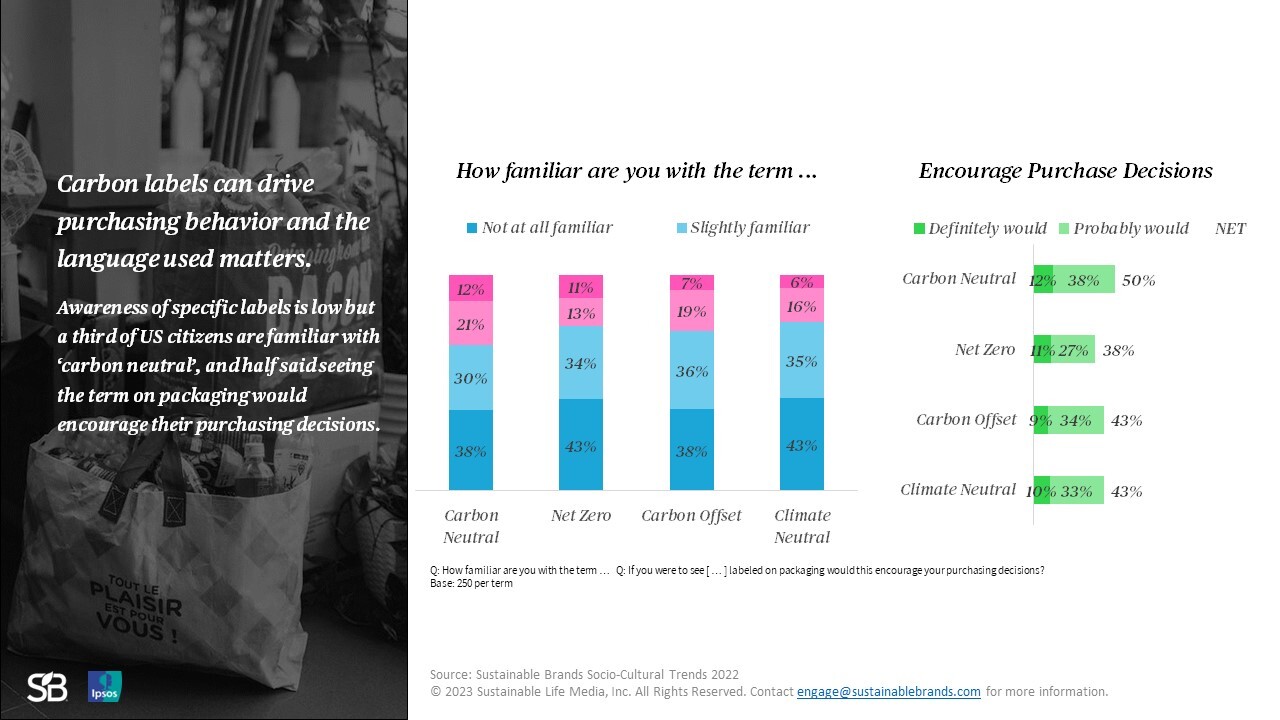 As society enters a heightened era of carbon-aware consumers, brands have the opportunity to engage their customers in the impacts behind their environmental efforts. But carbon labeling isn't enough. Consumers have consistently reported that while they intend to make more sustainable choices, there is a gap in their actions that is directly related to not knowing where to start. Brands must be the leaders in culture change to close this intention-action gap by offering guidance and solutions, through inspiration and education, to create a more sustainable future. Shifting demand and behavior toward sustainable choices is the only way to accomplish good growth.
Take a further look at this data by downloading SB's Q4 Pulse highlights report.
To unlock deeper results from this study, alongside rich historical data and future-facing insights, subscribe to the SB Socio-Cultural Trends ResearchTM. This annual subscription provides access to ongoing consumer research studies in addition to targeted brand perceptions through brand-specific reports and scorecards. Organizations who test their individual brands in the large-scale annual study are able to strategize their social and environmental initiatives through the lens of their consumers, improve their brand influence and positioning in the marketplace, and create a deeper connection with their customers.
Author
Kristen Tetrick, Director, Brand & Content Marketing
Sustainable Brands